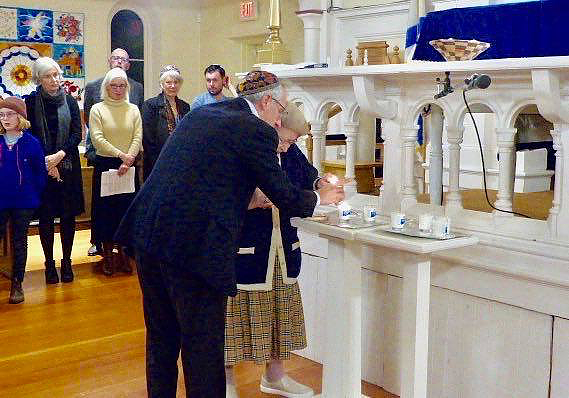 Dear Faith and Community Leaders:
Kristallnacht November 7, 2019: "Remembrance and Action."
Each year, we commemorate Kristallnacht (night of broken glass), which was the beginning of the tragic history of attacks on European Jews. The commemoration this year will be at Congregation Emanu-El synagogue, 1461 Blanshard St., Victoria, on Thursday, November 7 at 7:00 pm.
In recent years we have seen the unfortunate growth of attacks on minority groups and those who are "the other". This highlights the need for us to stand together to protect and safeguard all peoples, regardless of religion, race, sexual orientation or other factors, which may make them targets of a hateful few.
This year's program is titled "Remembrance and Action". It is a respectful remembrance of those who suffered on Kristallnacht and in the Shoah (Holocaust) as well as a reminder of how and why we, as a collective society, commemorate such tragic events. Remembrance is essential, however we also must act in tangible ways to protect all peoples in our diverse community. We are inviting political and law enforcement leaders and representatives from the diverse faith communities to join together at the commemoration to lead us in reading the following a Pledge of Mutual Respect and Support:
"Silence in the face of injustice is to agree with the ones who perpetrate injustices. Never will we stand by to allow expressions of racism, xenophobia, or discrimination against any peoples in our community. We will do our utmost to encourage meaningful dialogue and positive action to foster understanding among diverse groups based on mutual respect."
We would be honoured if you were able to participate with the community leadership group in this reading. Kindly RSVP to the e-mail address below by November 1, 2019 to let us know if you will be able to attend.
Yours sincerely,
Peter J. Nadler Victoria Shoah Project
Web site: https://www.victoriashoahproject.ca
Facebook page: https://www.facebook.com/victoriashoahproject