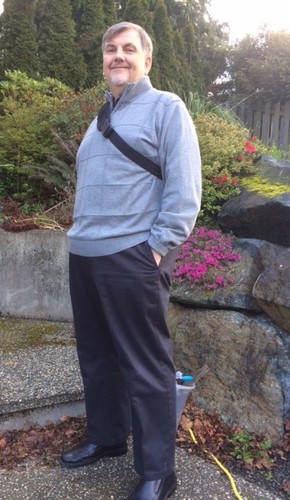 Michael was born in the UK and came to Canada at 9 months old. He doesn't remember that trip much but has traveled extensively since. He was raised in North Vancouver and moved to
Downtown Vancouver at 19. Then in 2005, he had his passport updated, got his shots and moved to Vancouver Island.
His career started as a restaurant manager. That developed into becoming a chef, bar manager, and hotel manager. From 2013 to 2015 he owned and operated The King's Deli on Fort Street. He also worked for Elections Canada and is a certified florist. (Arranging flowers are not as much fun and you think it might be!)
He worships at St. John the Divine and he and his husband Paul were the first same-sex couple to have a Blessing by the Bishop in our diocese. Michael has three loves in his life, his dogs' Bandit and Beau, his husband Paul and the theatre. Not necessarily in that order.
He has directed and acted for both Langham Court Theatre and St. Luke's Players, the Fringe and KISS Productions.